Water Supply Outlook Summary
---
Due to sparse rainfall amounts and the depletion of what little snow pack there was, near record low April through May runoff volumes are forecasted for the Salt and Little Colorado river basins with much below median volumes for the Gila River Basin. The Virgin River Basin runoff volumes are forecasted to be much below average for April through July.
April-July Volume Forecasts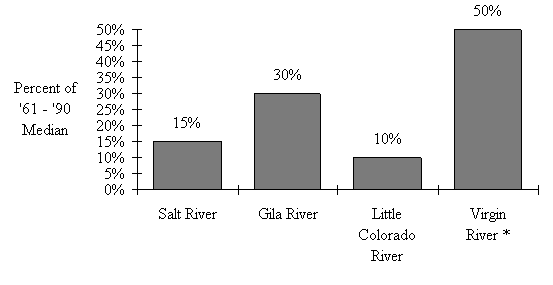 *Virgin River Basin forecasts are for the April through July period and expressed in percent of average.
30 Day Weather Outlook
The National Weather Service 30 day outlook for the Lower Colorado River Basin calls for near normal temperatures and near normal precipitation.
---
Water Supply Outlook for the Lower Colorado - April, 1996 Colorado Basin River Forecast Center (http://www.cbrfc.gov)
Last Modified: Monday, 08-Apr-1996 18:30:06 UTC