Water Supply Outlook Summary
---
Volume forecasts as of March 1 indicate much below average to much above average spring runoff in the Upper Colorado. Generally, forecasts have increased from the previous month because, in most areas, February precipitation was above to much above average.
April-July Volume Forecasts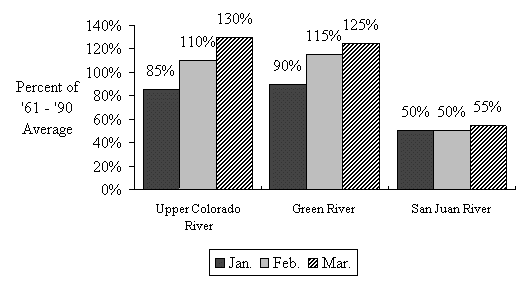 30 Day Weather Outlook
The National Weather Service 30 day outlook calls for near normal precipitation and temperatures for the Upper Colorado River Basin.
---
Water Supply Outlook for the Upper Colorado - March, 1996 Colorado Basin River Forecast Center (http://www.cbrfc.gov)
Last Modified: Friday, 05-Apr-1996 22:39:28 UTC